The sun woke up real early in Taiwan! I thought we had overslept when I look outside the window. The sky was as bright as our 8am! Quickly grab my phone and to my surprise, its only 5am in the morning!! *phew* back to sleep again.
The little soldiers started getting up at 7am with
Charmaine
taking the lead. She is responsible to take
Nicholas
up for breakfast while I prepare
Ryan
. When everyone is gone, I packed up the place ready to check out.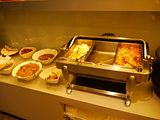 The breakfast was simple porridge buffet with toast. Breakfast was completed in less than an hour, Hurray!
We deposited the big luggage in the hotel since we will be back 2 days later. Only took a hand luggage and the whole troop set off to Taipei main train station, which is just a 5-10 mins walk away, for the 8.50am express train to Ruifang (its an "interchange" station for those going on the Pingsi line)
We bought the tickets with seat allocation. Its cost NT76 for adult and NT38 for child. Nicholas and Ryan rides free. There are free seating tickets for budget travelers, which means you can seat anywhere as long as its vacant.
Rant.
..It took me lots of effort to plan everything to the dot! I have a list of train schedule printed so I know what time we need to be at the stations. The link to the Taiwan Railways Timetable is
here
. To check the schedule for Ruifang, at the "to" select Taipei, Ruifang.
We reached Ruifang at 9.26am. Their train service punctuality is really on the dot! After Charmaine and Nicholas took stamped their journal book with the local train chop and we walked out the station to get a cab to Gold Ecological Park.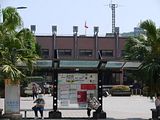 Actually there is direct bus for just NT41 for all of us (NT15 for adult and NT11 for child) but hubby suggested taking a cab there which cost us NT240(S$11)!
The bus stop is just opposite the train station but we were told the interval is 30 mins. (View from the bus stop)
Anyway, we arrived at the
Gold Ecological Park
at about 10am.
Admission to this place is free but certain "attraction" in there will have to pay. We deposited out hand held luggage at the Tourist Centre and explored the place.
The first stop - we checked out was the official residence
(四连栋)
. The buildings here are very "Japanese" as Taiwan was under Japanese occupation for nearly 50 yrs. The photos below belong to just one household!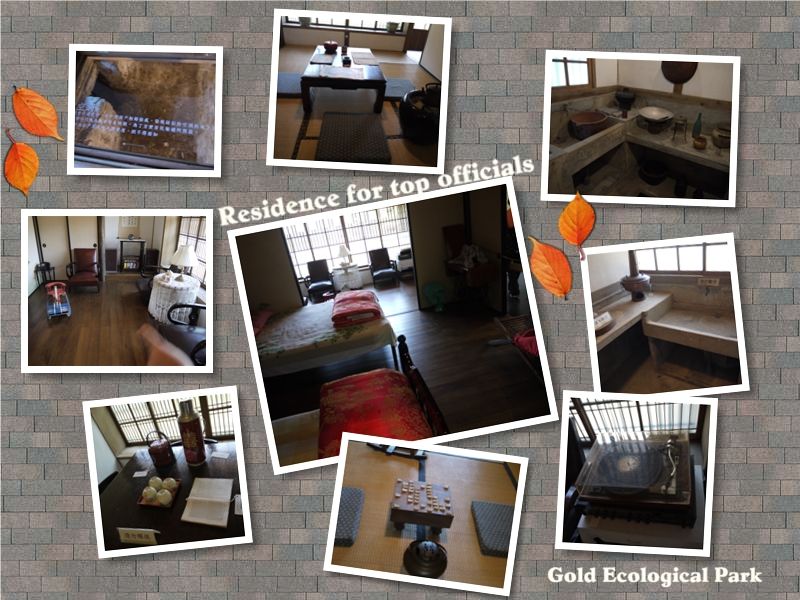 Next -
Fifth Tunnel (本山五坑)
. This one is a tunnel experience and cost NT50 (S$2.20) per person regardless of age. Was told is for insurance so even Ryan needs a ticket. Its an interesting experience though at some point, the boys were a little afraid (dark). Its quite slippery so be careful.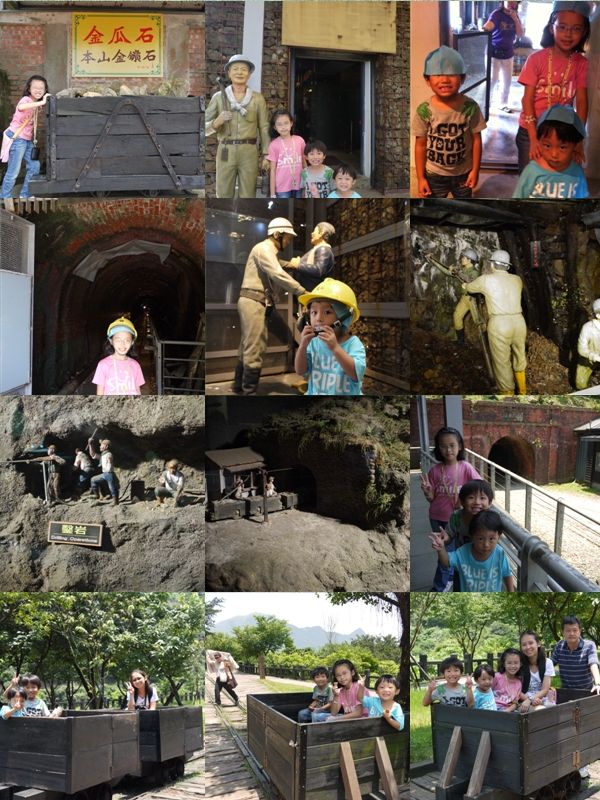 Then went over to the
Gold Museum
and laid our hands on the 220kg pure gold ingot.
We missed the timing for the gold panning (NT100/person) and the next slot is another 2 hours later. So we decided to give it a miss and visited the
Crown Prince Chalet
instead. Nothing much to see but the view from the chalet is really good. They even have a mini golf course and archery field! Actually we won't even know its an archery field if we didn't tag along a tour guide.
By then, it was past 12pm and hubby decided its time for lunch break. We bought 3 sets of the Mineworker's Lunch Box which cost NT220 (S$9.70)each. It has some salted pickle (delicious) with a big slice of pork chop (just as delicious). The price includes the container too!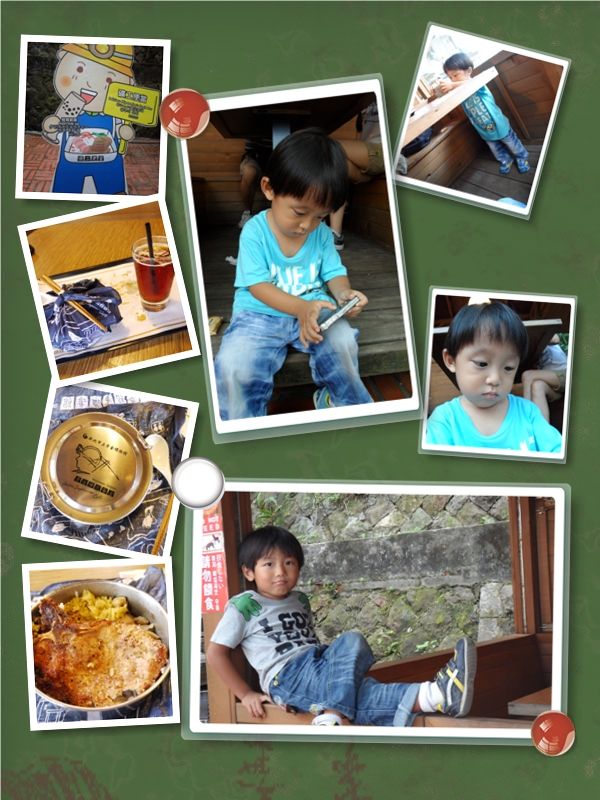 We saw some crews filming and decided to hang around to watch them. The weather here is really cooling and air is fresh.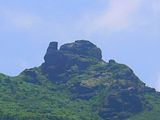 Charmaine went around by herself (nearby) to take pictures. And she caught this shot. From the Park, you can see the "tea pot mountain". See? It looks like a tea pot, right?
When she is back, we decided its time to head to Jiufen 九份.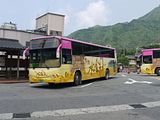 So collected our luggage from the tourist centre and this time, hubby agreed to try the bus service. The bus stop is just opposite the entrance.
Be warned that although the people here in Taiwan are super nice, the bus drivers are not. They can be really impatient. Our stop is just one stop from the Ecological Park. The fare is the same NT15/adult and NT11/child. The ride back took us less than 10 mins.
I had booked ourselves a very nice 民宿 with
Winsor B and B
for 2 nights stay. I chosen
涵館3
because of its nice view and good location. Ours is just next door to the breakfast cafe and less than 5 mins walk to all the teahouses. It is also directly below a few "flight" of stairs, about 5mins climb to the main street.
We were told by the owner that due to the "special" flushing system in Jiufeng, we cannot disposed any toilet papers into the "bowl". That means, even if we do "big" business in there, the toilet paper into the bin next to the toilet bowl...*yucks*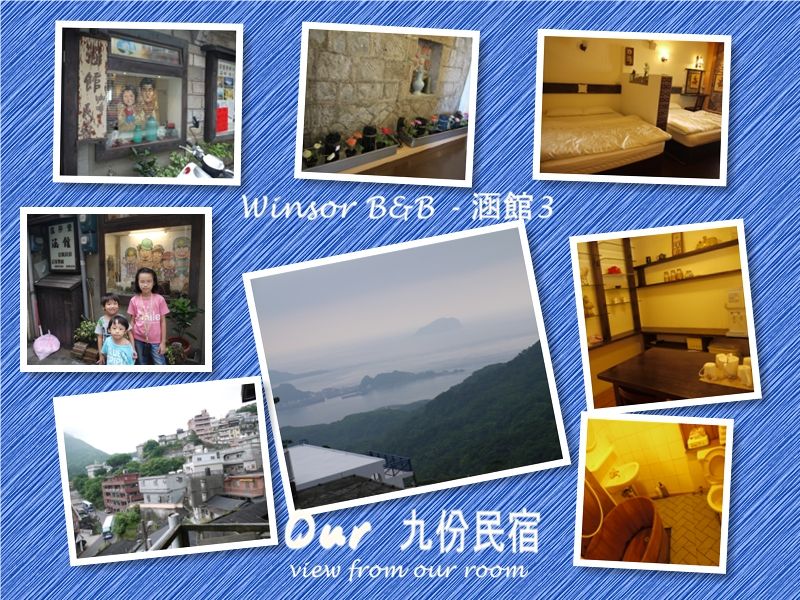 The full view you get standing at our unit's balcony. 有山也有海。
It's a family runs business and the owners are very friendly. They gave us a
map
and pointed out the
MUST
visit shops. The highly recommended one is the beef noodles and it really is a must try! The soup is delicious and the meat tender.
We took a 2 hours afternoon nap before exploring the street again at 4.30pm. Oh, the shops here closed around 6pm but teahouses here open till midnight.
We didn't go to those small alley as just walking the 2 main streets - Jishan street 基山街 and Shuqi Street 豎崎街 already filled our tummy. Like I said earlier, the beef noodles is really delicious even for one that don't fancy this soupy type. The fishball noodle is another thing...even the kids don't like it. The fishball, unlike ours, is hard, a little like meatball. We did some souvenir shopping her too.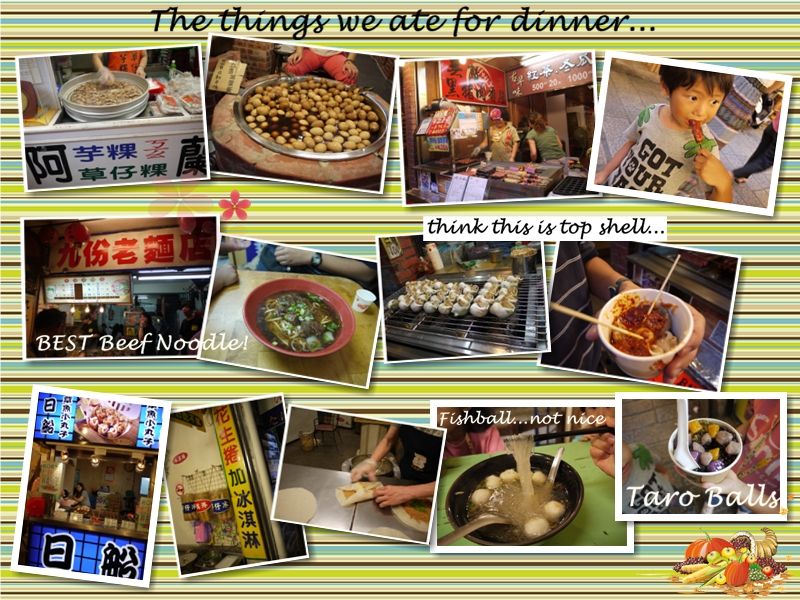 The night view is mesmerising too! Especially the teahouses.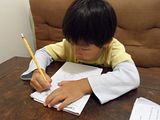 We got back to our place around 7pm and they kids took turn to wash up and complete their reflection. It will be a super long one for Charmaine to write.
Lights off for the kids at 10pm. After Ryan knock off, we told Charmaine that we will be out for supper and asked her to keep an eye on her 2 brothers.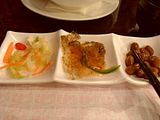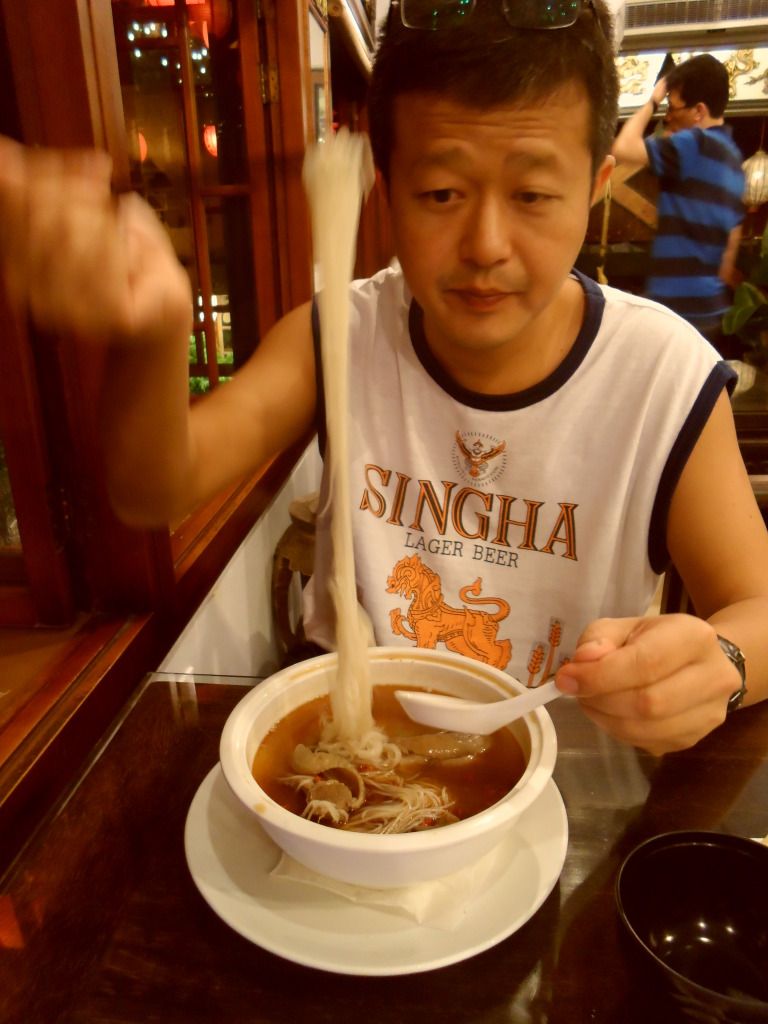 We ordered a bowl of drunken chicken noodles which turn out to be really filled with alcohol. Its too much for me and so hubby ended up eating most of it.
The view from the teahouse is beautiful and serene. A very good place to enjoy a pot of tea and chit-chat.
Point to note:
There is a tourist stamp at every train station for tourist to collect chop/stamp. So do bring along a book to collect all. Its fun and memorable.
Exchange rate S$1 = NT22.67
Please do not bring any bulky luggage to Jiufeng.
Winsor B&B provide free Wi-Fi.